Updated 16 May 2016
Apparently, there are still people in public health trying to defend the EU Tobacco Products Directive as it applies to vaping! It's a ludicrous measure, that protects the cigarette trade, has costs and risks that vastly outweigh the non-existent benefits. ASH (London) appears relaxed about the nicotine strength limit: New EU rules on nicotine strength not a problem for most vapers it declares this morning (16 May 2016).
ASH claims that because 'only' nine percent of current vapers use liquids over the limit set by the EU Tobacco Products Directive, concerns raised in Parliament (Lords debate, Prime Minister's Questions) are unjustified:
Concerns raised in Parliament [4] about the EU rules are not borne out by the ASH Smokefree GB Adult Survey. Only 9% of vapers report using e-liquid containing 19mg/ml or more of nicotine (the limit set by the EU Tobacco Products Directive is 20mg/ml).
Or maybe Parliament is right and ASH is wrong…? How might one respond to this defence of the indefensible? 
Further to the New Nicotine Alliance letter to the government calling for a focus on multiple unintended consequences of this policy car crash, this is a good moment to analyse the completely pointless and damaging restriction on nicotine liquid strengths to 20mg/ml.
Five ways in which the 20mg/ml nicotine strength limit will cause harm
1. Nine percent of a big number is a still a big number
There are about 2.2 million vapers in Britain (ONS), so nine percent of them amounts to about 200,000 vapers affected.  It doesn't need too many of these to relapse to smoking or stay as 'dual users' rather than going on to quit smoking for the toll of harm to be very high. What advice do those calling for complacency about the Directive have to address the concerns of this ex-smoker and current vaper, for example?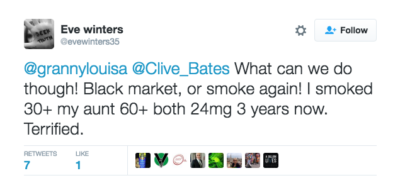 Big numbers are in fact a lot of individual stories of triumph and adversity – and it is what regulation does to individuals that we should care about.  In the section below, I have put together a "Desk-murder calculator" so we can try out a few assumptions and see what sort of impact might have on those affected with some more precise numbers.
I don't want to sound alarmist calling it "desk murder": but if a bureaucrat, politician or activist presses for a measure and people's lives are ended prematurely as a result through a foreseeable causal mechanism for which there are no compensating benefits, then what else should one call it? Desk-manslaughter m'lord?
2. Counting the vapers but think of the smokers
It's not only the nine percent of current vapers (2.2m) who should concern us as above. It is also the current smokers who don't vape (7.5m of 8.8m smokers – ONS) who we should be concerned about. Perhaps it is the ones who have tried e-cigs but gone back to smoking that we should be most bothered about.
There was a paper out last week that made a relevant point – vaping isn't yet working for most smokers. So we have to ask, how does throttling the nicotine delivery help?
Pechacek TF, Nayak P, Gregory KR, et al. The Potential That Electronic Nicotine Delivery Systems Can be a Disruptive Technology: Results From a National Survey. Nicotine Tob Res Published Online First: 3 May 2016. [link]
Conclusions
Since many current smokers who have tried ENDS reject them as a satisfying alternative to regular cigarettes, ENDS will not replace regular cigarettes unless they improve.

Implications
Since about one-half of recent former smokers are trying ENDS with about one-fourth continuing to use them, and many reporting that these products have helped them quit regular cigarettes, the potential impact of ENDS on population quit rates deserves continued surveillance. However, since most current smokers who have tried ENDS reject them as a satisfying alternative to regular cigarettes, the potential of ENDS becoming a disruptive technology replacing regular cigarettes remains uncertain. ENDS need to improve as a satisfying alternative or the attractiveness and appeal of the regular cigarette must be degraded to increase the potential of ENDS replacing regular cigarettes.
How does insisting It's likely that the continuing smokers or people who have tried vaping and gone back to smoking will be attracted into vaping by four things:
good quality vaping devices or better than they tried first time (these may already exist for many smokers put off by 1st and 2nd gen devices)
stronger liquids that replace more of the nicotine lost from smoking – especially while learning
the ease of use and familiarisation
a better understanding of the benefits
So perhaps some smokers who tried vaping but went back to smoking used a poor device (e.g. bought from a supermarket) or just couldn't get it to work or were put off by deceitful public health propaganda.  Next time they try, they might find they are held back by the liquid strength.
3. Blocking the transition pathway from smoking to vaping
If you just look at the stock of vapers, you may be missing something important about the flow of switchers from smoking to vaping, and that is that to get over the learning hurdle and initial unfamiliarity. Most smokers use stronger liquids when they first switch to vaping then reduce later.  If you just count the 'stock' of vapers, you are missing the impact of this limit on the 'flow' from smoking to vaping. That matters a lot. Some evidence….
Farsalinos KE, Romagna G, Tsiapras D, et al. Characteristics, Perceived Side Effects and Benefits of Electronic Cigarette Use: A Worldwide Survey of More than 19,000 Consumers. Int J Environ Res Public Health 2014;11:4356–73. [link]
Both former and current smokers initiated EC [e-cigarette] use with high nicotine-containing liquids. More than one-fifth of the population initiated use with more than 20 mg/mL nicotine concentration, with higher prevalence in former smokers, supporting the hypothesis that nicotine plays an important role in the success of ECs as smoking substitutes
Farsalinos KE, Romagna G, Tsiapras D, et al. Evaluating nicotine levels selection and patterns of electronic cigarette use in a group of 'vapers' who had achieved complete substitution of smoking. Subst Abus Res Treat 2013;7:139–46 [link]
Based on these observations, the authors conclude:
Conclusions
In conclusion, high nicotine-containing liquids are probably essential for initiating and maintaining smoking abstinence in a group of motivated vapers. Although less dependence was reported relative to smoking, prevalence of nicotine use was high even after several months of EC use. Public health authorities should consider the evidence from this and other studies that ECs are used as long-term substitutes to smoking by motivated exsmokers and should adjust their regulatory decisions in a way that would not restrict the availability of nicotine-containing liquids for this population
4. Coping responses to the Directive may push higher strength liquids
Smaller tank sizes encourage stronger liquids.  The forthcoming and completely pointless EU limit of 2ml on the size of a tank may reverse the gradual trend to consumption of weaker liquids but higher volumes. It may be that more consumers will prefer to have a day supply of nicotine in the smaller tank, rather than fuss around with refills while out and about.
The burden of regulation may push more DIY. Because of immensely burdensome paperwork obligations of the directive, it is possible that the e-liquid market will cleave in two. There will be a few relatively simple regulated unflavoured nicotine liquids falling under the TPD, with a much larger range of non-nicotine flavoured liquids that fall outside the scope of the directive. Users will mix them post-sale. Users will wish to have access to strong nicotine bases that they can dilute with flavoured non-nicotine liquid. If they can't get these they will access the products cross-border for example via the internet from China. This is extremely easy to do: see Regulators and the compliance fallacy – buying 99% nicotine e-liquid from China
5. 20mg/ml is a barrier to innovation
The wholly pointless restriction to 20mg/ml closes down possible options for innovation – some of which may be valuable for safety reasons or improving appeal. By its nature, we don't know what future innovation might be, but stronger liquids could be used in miniaturisation, in systems for varying the strength without changing liquids, in lowering energy consumption, in providing customised products for more nicotine-dependent smokers, or for relapse prevention. The products of the future will reach further into the population of smokers because their appeal – part of which is nicotine pharmacokinetics – will improve through innovation.
Desk-murder calculator
I've pulled together a tool for rough modelling of the scale of these effects.  It relies on a couple of assumptions, which can only be guesswork – so they are better understood as "what-ifs" scenarios, not predictions that give us a sense of what might be at stake. Assumptions are:
What proportion of vapers currently using over the EU limit will relapse back to smoking or not continue from dual use to exclusive vaping? For illustrative purposes, I have assumed 1 in 10, and, therefore,  9 out of 10 will find some way to cope or adjust.
What proportion of smokers would not find their way through a transition from smoking to vaping because of this threshold (this is a compounding of three fractions: the proportion who will try, the proportion would use > 20mg/ml, and the proportion of these who don't make the transition because of the EU limit). For illustrative purposes, I have assumed 1 in 500 smokers.
Here's how the numbers play out…
To summarise, on these assumptions the impact of limiting the strength of nicotine liquids to 20mg/ml will approximately be:
35,000 people harmed
42,000 years of life lost, equivalent to the loss of life you'd achieve from killing about 1,000 people of UK average age
Social cost (economic value of lost life) of about £2.5 billion
Just another busy day at the office in public health!
In a sane world, these costs would be entered in the Department of Health's Impact Assessment and the measure declared unlawful and withdrawn immediately.
Of course, I don't know if these assumptions are right – but does anyone in public health know any better or believe these assumptions should be set to 'zero'? The point is that these small numbers, like 9%, turn out to cause huge impacts under reasonable-sounding assumptions. And with this handy tool, anyone can enter their own estimates of how much harm they are defending.
If you want to play with the spreadsheet – it is available here in Google Sheets. You can copy it or download to Excel (and other formats) via File > Download as> Microsoft Excel (.xlsx). Note now updated to allow input of benefits – see below.
Concerns raised in Parliament went far beyond the strength limits
The debate in Parliament was wide-ranging – see Hansard for the transcript and covered far more territory than the strength and containers size limits.  Condensed write up by Dick Puddlecote here: The Lords realise it's not about health.  The only good thing about the EU directive is that it isn't as bad as the FDA.
The right question is…
The right question is "what is this nicotine limit supposed to achieve?". No-one has any idea, the justifications for it have been endlessly dismissed by experts, and no-one with any credibility should still be defending it.
Adding 'benefits' to the desk-murder calculator
In the comments, Gummy Bear rightly complains there is no 'benefits' section in the desk-murder calculator. I have taken the challenge head-on and added this I just haven't filled in the data but others – ASH perhaps – can do that if they wish. I have no idea what assumptions to make about benefits – zero being the most generous as I suspect that even where benefits are hoped for, things will actually get worse.
 Even for these purported benefits, it is quite possible that they would end up negative, as compensating behaviour would turn a hoped-for benefit into unintended harmful consequences.
The right answer is…
The risk from this pointless limit on nicotine strength is more vapers relapse back to smoking and fewer smokers will quit by switching to vaping.  But all this harmful meddling can be entirely avoided by scrapping the limit and not messing with the efforts and choices of thousands of people as they go about quitting smoking, or simply doing what they choose to do.
Why is the European Union, aided and abetted by the British government and a medicine regulator, blocking an adult free exchange between a willing buyer and willing seller that harms no-one else? Leave aside the illustrative calculation of harm to health, a gratuitous and pointless denial of free choice is a wider and more insidious harm.
Other writing on this