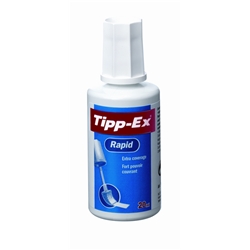 Campaigning by so-called health groups to ban much less hazardous alternatives to smoking is dangerous, unethical, lazy with facts and utterly without regard for the people they are supposedly trying to help – see my detailed post Death by regulation.  But they go to a whole new level of awfulness – evil maybe – when it is done with deliberate deception and falsification.  When that happens, it becomes something much darker – in fact as bad, and as deadly, as the worst excesses of tobacco industry PR.  And that is what happened – they used Tipp-ex to erase inconvenient truths in a report intended to inform science based policy on alternatives to smoking. 
It is with real dismay that we have to confront the deliberate falsification of a scientific assessment of smokeless tobacco by a European 'health' group, the European Network on Smoking Prevention, as it was known at the time.  The use of Tipp-Ex is only the absurd symbolic tip of the iceberg of deliberate knowing rejection of evidence.   The Swedish newspaper Aftonbladet takes up the story… (in translation below assisted by Google Chrome).
AFTONBLADET , 16 September 2012, Oskar Forsberg

HOW THEY COVERED UP THE SNUS REPORT

EU research didn't suit tobacco opponents – so they resorted to Tipp-ex.

Falsified results Anti-snus lobbyists ENSP were charged by the EU Commission to map out snus in Europe. They, in turn, hired a Dutch company – which in its report drew the conclusion that the snus ban ought to be lifted across the EU. ENSP backpedalled, and started deleting sections of the document

The EU Commission is threatening to ban Swedish snus. But Aftonbladet can reveal that a large part of the EU's knowledge base is built upon a biased, censored report.

They went so far as to Tipp-ex sections of the report, said a source with deep insight.

In 2003 the European Network for Smoking Prevention, ENSP, was asked by the EU Commission to write a report about Swedish snus.

The job was contracted out to Dutch consulting company Research voor Beleid. In their report, "Lift the ban on oral tobacco," the Dutch concluded that the snus ban ought to be lifted across the EU.

But when ENSP received the document, the contents of which contradicted its own convictions in the matter, the group decided to re-write the report. What they presented instead was a completely different conclusion: that snus is dangerous and causes cancer in the oral cavity.

Widespread censorship

Facts
Sales of snus have been banned in the EU since 1992.When Sweden entered the EU it got a permanent exemption from the ban on the grounds that it would not sell snus to other EU countries.In April 2012 Aftonbladet revealed that EU Parliament was proposing to ban flavours in tobacco. This would, in practice, ban Swedish snus which has always had flavours. The news was received with massive criticism.

The new report was called "Status report on oral tobacco."

Aftonbladet has had access to both documents. Several sections have been deleted from the original report. Among them is the statement that the criticisms one can level against Swedish snus can also equally be leveled against nicotine replacement therapy products.

But the censorship would prove even more widespread than that. After the final report had been "washed" and re-printed, the anti-snus lobbyists at ENSP found further "faults." They forgot, however, to delete one half-sentence.

They didn't manage to reprint the edited text before it had to be officially presented. So, at the last minute, they painted Tipp-ex across the remaining positive statement about snus, said Aftonbladet's source.

If one holds up the document to a source of light, it's easy to read the original line:

"An increased frequency of cancer in the oral cavity has been seen among snuff users in North America, but not unequivocally in Sweden."

After being painted with Tipp-ex, the sentence reads: "An increased frequency of cancer in the oral cavity has been seen among snuff users."

Only a few copies left

Following the publication, the text was reprinted one more time. The Tipp-ex version that was presented at the 2004 publication is therefore available only in a few copies today.

"One may not flank"

The report offers thanks to many Swedes, among them Hans Giljam, snus critic at the Karolinska Institute and simultaneously advisor to pharmaceutical giant Pfizer, the maker of anti-nicotine medication Champix, a connection which Aftonbladet has previously reported about.

"I don't know of this report, but I do know of another which came at a later stage and in which I had participated as a writer," he said.

Is it usual to change scientific texts in EU reports?

"No, the written text should stand on scientific grounds. There isn't much room to maneuver. One may not flank," said Giljam.

Paul Nordgren from think-tank Tobaksfakta, which is financed by the Swedish National Institute of Public Health (FHI), had also written a section in the report.

He was also thanked by ENSP, but could not be reached for comment.
I'm disgusted with these people.  While you consider what has happened here, just imagine the tsunami of righteous outrage there would be if a tobacco company or those of us who support the widespread introduction of much less hazardous alternative to smoking had done similar.  Here's what should happen,
The report should be withdrawn
ENSP should be declared ineligible to receive any public funds, including and especially from the European Union
Someone, somewhere should take responsibility and apologise
A lot of people who believe they are health advocates, and are paid as such, are nothing of the sort – they ought to be examining their consciences and looking again at the evidence with some humility
Whilst the falsification is absolutely disgraceful, I doubt there was ever any intention to have an objective assessment of the science as it would have given the European Commission an unwanted rationale for reversing their utterly counter-productive ban on oral tobacco.  More likely is that they were looking for reasons to prove they had been right all along.  If they wanted an objective account of the science and epidemiology, why would they chose ENSP to do the work in the first place – a group with a overt hostility to harm reduction approaches. To emphasise the point ENSP has now changed its name to the European Network for Smoking and Tobacco Prevention.
Though this incident dates back to 2003, they are still at it of course: see this ENSP letter to the European Voice in May this year for an example of denial and obfuscation.
By the way, you can read more on this sort of mendacity about snus in the excellent book, The art of suppression: pleasure panic and prohibition since 1800 by Chris Snowdon.