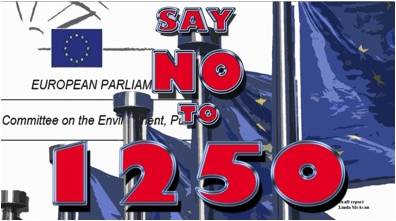 Updated: 29 May.
It has to be asked… Is Linda McAvan MEP, European Parliament rapporteur for the Tobacco Products Directive, in an unholy alliance with the tobacco industry?  Judging by amendment 1250, she might as well be.   
MEPs on her committee will look at amendments to the directive this week, and these include her amendment on e-cig regulation (number 1250), that takes the many provisions of medicines regulation out of the medicines directive and just pastes them into the tobacco products directive.  It is supposed to be a 'simplified procedure' but as we shall see, it is really juts more costs, burdens and restrictions on e-cig makers  that don't apply to cigarettes.   So… say no to 1250
At the European Parliament hearing on e-cigarettes on 7 May, the ENVI committee rapporteur, Linda McAvan MEP expressed dismay that there are people who apparently think she is doing the dirty work of Big Tobacco (see the video below at 1'07).
She laments:
…I've read lots of things…  that we have an unholy alliance between myself and the tobacco industry.  Anyone who knows me might think twice about that comment …and also the pharmaceutical industry.
Let me say for the avoidance of all doubt or ambiguity, I absolutely do not believe Ms McAvan is in any sort of alliance with Big Tobacco or Big Pharma.    It just looks that way…. 
To see why a neutral observer may easily draw this conclusion, let us walk through the proposed amendments to the Commission's proposal for regulating e-cigarettes (Article 18) and look at the key one on e-cigs she has put forward, number 1250.   Her proposed amendment to Article 18 are here (in MS Word format) is mostly contained in amendment 1250, a proposal for a simplified authorisation procedure. I have taken this and done a 'side-by-side' commentary below – looking at how well conceived they are, and what they do for the cigarette industry (noted in red).
R

apporteur's Amendment 1250

Commentary: the Counterfactual

Article 18 a

 

Nicotine-containing products

Before a detailed critique, I must welcome the implicit rejection of the Commission's version of Article 18 that this represents – with its strange thresholds and default medicines regulation for every form of e-cigarette that is a meaningful substitute for smoking. This is a good development in itself. It just needs to be taken through to its logical conclusion. 

1. Nicotine-containing products may only be placed on the market if they are authorised pursuant to:
Unlike for cigarettes (and alcohol or caffeine), this defaults to a prohibition, subject to authorisation. All the other products have to do is comply with clearly transparent standards and they can enter the market at will. 

This presents a greater barrier for e-cigarettes than for cigarettes. A win for the cigarette industry.

 

(a) Directive 2001/83/EC, or
This appears to leaves it open to medicines regulators or member states to classify e-cigs as medicines.  Any reference to the medicines directive (2001/83/EC) should clarify that this directive applies if, and only if, a therapeutic claim consistent with the definition of a medicine is made (ie. for treating or preventing disease). Preventing inappropriate misclassification of e-cigarettes as medicines would actually be a credible harmonising measure consistent with development of the internal market. Allowing multiple regulatory regimes to proliferate would not be.

E-cigarette businesses are therefore facing arbitrary unpredictable regulation, whereas the cigarette makers know exactly what they have to do (…and that is not much). 

(b) The simplified procedure as set out in paragraph 2 and 3.
At first glance, this looks like an improvement, but in fact the simplified procedure still contains many of the undesirable aspects of medicines regulation – only spelt out rather than just contained in the medicines directive. In practice there would be little difference between the burdens of the two options.

Classifying these products as medicines explicitly (a) or by stealth (b) when they are actually consumer products, simply holds back innovation, diversity, and competitive edge and so, compared to the alternative, it impairs competitiveness with cigarette makers.

Simplified procedure
It may be simplified but it isn't simple.

It is significantly more burdensome than bringing a new cigarette brand or novel tobacco product to market.

2. Under the simplified procedure, Member States shall require manufacturers and importers of nicotine-containing products to submit an application for a marketing authorisation, which shall contain the following:
The 'simplified procedure' specifies requirements for making an application. But it does not specify the criteria that must be applied to allow or disallow authorisation – ie. what are the regulators looking for when they authorise or do not authorise a product?  The problem with that is that different criteria in different member states work against the operation of the internal market. More generally, this serious omission reflects the difficulty and undesirability of trying to design a credible regulatory regime on the hoof using an amendment. Regulation of such an important class of products needs a good policy-making effort – with proper problem definition, analysis of the market, options generation, consultation, options appraisal, impact assessment, costs, benefits, risks etc. This creates a regulatory and 

political

risk for e-cigarette makers – it therefore raises costs and potentially deters investment. In doing so aids the cigarette industry.   
a) Evidence that the product is manufactured in accordance with the principles and guidelines of Good Manufacturing Practice;
This is a costly and unnecessary application of a concept designed for medicines regulation. The 'principles and guidelines' are anything but simple – see directive 2003/94/EC  and related

GMP Guidelines

. Note these apply to medicinal products imported into the EU – so would require the current Chinese e-cigarette suppliers to meet this standard and be able to prove it.  

These standards do not apply to manufacturers of cigarettes – which of course generate their own massive 'contamination' through burning tobacco at the point of use.

  A much lighter touch – and far more appropriate approach – is to use the EU's standard-setting power (see

Regulation 1025/2012

) used for food and beverages. This sets standards for contaminants in food (see European Commission guide: Food contaminants). It is important to recall that regulations designed by the European institutions must not be more restrictive and burdensome than necessary to meet the health objective and performance standards are preferable to design specifications (see

Treaty on European Union Protocol 2 Art 5

and WTO

Technical Barriers to Trade Treaty

(TBT)

Art 2.2 and 2.8

for example). But why do something proportionate and lawful when you can help the cigarette makers? 
b) A detailed description of the product in question, including all ingredients and quantities thereof, as well as information on emissions;
What use will be made of this information? Unless it is part of regulatory decision- making what purpose is served by this? No purpose is specified in the justification.  It looks like it has just been borrowed from cigarette language.  What information on emissions would be required?  The concept of emissions is meaningless for an e-liquid per se. It only makes sense in combination with a vaping device.  It must involve some sort of puffing regime, but that is not specified. Again, just a randomly applied and poorly designed burden without a purpose.

More dead weight and advantage to the cigarette industry.

c) A Risk-Management Plan, including a system for monitoring and recording any adverse reactions;
Cigarette manufacturers do not have to track the annual 700,000 fatal 'adverse reactions' or millions of sub-lethal side effects associated with smoking annually in the EU. No such requirement is imposed on vendors of alcoholic drinks or caffeine products either. Adverse physiological reactions should be reported to a public authority (for example via the

MHRA Yellow Card

scheme

), not the manufacturer. Physical problems with products should be reported via

national trading standards bodies

and ultimately the

RAPEX system

. This sort of regime is better suited to genuinely risky medical products like the smoking cessation drag Varenicline, where the are

cardiovascular

and

neuro-psychiatric

risks not associated with nicotine.  For e-cigarettes, where the role of the main active ingredient, nicotine, is well understood, systems exist to deal with consumer safety, without imposing new burdens.   

Another gift to the cigarette makers, with a bonus for Big Pharma.

Member States shall be entitled to charge a fee for processing the application. They may also require manufacturers or importers to carry out additional tests or submit additional information. Each Member State shall take due account of authorisations previously granted by another Member State.
Increases costs and bureaucracy. It would be better to have a complaint or inspection driven system.  Regulators can always find more work if they are paid for it. What are these 'additional tests' and 'additional information'? How can this be part of a harmonising internal market measure?

None of this applies to Big Cig.

3. For products authorised under the simplified procedure, Member States shall ensure that the following conditions are fulfilled:

 

a) the product is clearly labelled with the nicotine content, instructions for use, instructions for reporting adverse reactions, and details of the manufacturer;
This should include listing main ingredients. That is a more appropriate way to warn of allergies than specifying certain allergy risks (eg. associated with flavours) in a single health message.

Are there instructions for reporting adverse reactions to cigarette smoking? No. 

b) each unit packet and any outside packaging shall carry the following health warning:

This has been rolled over from smoking, but does it take account of how these products are actually packaged and sold in real life – eg. would this apply just to the liquids? Or to the hardware? What about very small packets? It only really makes sense for a certain sub-category of e-cgs.

 

More confusion that can only benefit the cigarette industry.

This products is intended for use by existing smokers aged 18 or over as an alternative to tobacco cigarettes. It contains nicotine which is a highly addictive substance. Consult your doctor if you are pregnant, breast feeding, allergic to nicotine or propylene glycol, or have high blood pressure.
Some sort of message is appropriate but this should be considered more carefully to provide the most relevant health messages to the user.  Why would you wish to prevent a 17-year old smoker using these products? What if propylene glycol is not used in the product? Is the wording about consulting a doctor the best health message? 

Noticeably longer than any cigarette warning. and does not point out the one things that matter – e-cigs are many times less dangerous than smoking. The cigarette industry shielded from the truth. 

 
c) flavourings shall not be allowed;

Utterly self-defeating own goal

. E-cigarettes consist of three basic ingredients – pure nicotine, a liquid or aerosol that forms the vapour, and flavourings to make the product interesting and palatable. If they aren't interesting and palatable then people will not switch from smoking and more harm will be the result. The point is that flavourings

are integral

to the viability of e-cigarettes and their success in switching smokers.  There is no evidence whatsoever to justify banning flavours and a strong counter-case can be made that it would reduce the harm-reduction potential of e-cigarettes. Flavours are

not integral

to cigarettes – only 5% use some sort of flavour – this is because cigarettes are flavoured by thousands of products of tobacco combustion, many of which are toxic.   Of course there is no sign that any assessment has been made of the commercial or public health impact of this or whether it would be lawful.  So this would be a most generous regulatory gift to the cigarette industry, greatly diminishing the threat to the incumbent from e-cigarettes and not far from a de facto ban. 
d) the sale of the product shall be restricted in line with the legal age for sale of tobacco products in the relevant Member State;

Fine sentiment, but the EU does not have competence for specifying ages and no age related limits were made in the Commission's proposal. Nor is this consistent with developing the internal market, so there is no legal base. This conflicts with the warning label, which specifies 18 years.

e) the products shall be available to be sold outside pharmacies;
The intent of this is good (I assume to make the products generally available) but the drafting is ambiguous.  Does this mean:

On 'general sale':  any retail outlet that wishes to sell them?

Anywhere where cigarettes are sold, as well as pharmacies?

In places other than pharmacies as specified by member states?

By someone operating from a folding table outside Boots?

In several countries classification as a medicine, as envisaged by the European Commission would restrict sales to pharmacies only. 

f) advertising and promotion shall be appropriately regulated;

There are already EU directives and policies that cover marketing and promotion:

Does this clause add anything or is it just a vague statement of the obvious embodied in the bureaucrats' favourite word 'appropriate'?  Or is the intention to hand regulators powers to control marketing of e-cigarettes that goes beyond the normal regulations that govern advertising and promotion.  E-cigarettes have around 1 percent of the recreational nicotine market – if they are to grow rapidly into the nicotine market supplied by highly toxic cigarettes, the vendors need to be able to advertise quite forcefully. It would be better if the European Parliament protected the right to advertise these products from arbitrary member state regulations than encouraged it. That would actually assist the development of the internal market, increase competition and challenge the dominance of cigarettes.   Opening the way to more restrictive marketing regulation for e-cigarettes will please the cigarette makers.

4. Member States shall monitor the development of the nicotine-containing products market, including any progress made in harm reduction, as well as any evidence of gateway use amongst young people. Based on the evidence, the Commission shall report back to the European Parliament and the Council 5 years after the transposition date of this Directive. The report shall assess whether amendments to this Directive are necessary.
This is sensible and worthwhile. In fact, along with the extensive base of existing regulation that already covers e-cigarettes, and some sort of health message, it is probably all that is needed.The 'simplified procedure' is too prescriptive, has not been the subject of consultation, there is no impact assessment (and the rapporteur has made no attempt to assess the impacts).

Justification: There is evidence that e-cigarettes may help with harm reduction strategies, and so they should be allowed to compete more freely with cigarettes – in terms of where they are sold etc. However products should still comply with appropriate safety and quality standards. The option of a simplified authorisation procedure takes elements from medicines regulation as well as tobacco regulation. We should proceed cautiously, given the lack of data, especially on long-term effects. There is a need for further monitoring, and the regulatory regime for NCPs should be reviewed in five years time.

Of course e-cigarettes should be able to compete more freely with cigarettes – that is exactly what happens now – and so far no evidence of material harm has emerged but plenty of evidence of harm reduction. You would expect even hyper-active interventionists to proceed with caution when something is working well without their involvement.

The time to define a new regulatory procedure is once there is material evidence of problems emerging that cannot be addressed by the existing consumer protection legislation. Given the rapporteur (rightly) proposes 36 months lead in time for this procedure, there is time to get this right, not jump to a hastily contrived regulatory regime proposed as an amendment to something that was itself poorly considered and probably unlawful.

Poorly considered regulation, hastily drafted, without adequate consultation, and no assessment of the impacts can only aid the rivals of e-cigarettes – a win for Big Cig. 

 

 

Article 26 – paragraph 1

Member States may allow the following products, which are not in compliance with this Directive, to be placed on the market until [Publications Office, please insert the exact date: entry into force +

24

36 months]:[…](b) nicotine containing products

below the threshold set out in Article 18(1)

;
This is a particularly important and useful amendment – and should be included even if the Commission's Article 18 is retained unamended (which would be a grave error). The Commission's proposal can be interpreted as applying the medicines directive from entry into force of the TPD – and potentially creating a ban on all unauthorised products at that point. The Commission's proposal would create commercial chaos and a black market.
Supporting cigarettes by protecting them from Swedish-style competition.  If only we could get smoking down from 28% to even close to 13%. That would really cut sales sales of cigarettes, as it has done in Sweden.  So we might also consider "assisting the cigarette industry by omission".  Although she is the rapporteur for the proposal and has had every opportunity to familiarise herself with the scientific, ethical and legal case and to consider constructive proposals, she has not introduced any sort of amendment that would replace the ban on snus with regulation of ingredients as recommended by numerous experts.  Though a tobacco product, it is of the order of 95-99% less dangerous than smoking and could become a significant challenge to cigarettes.  I can't seem to get answers to these two questions about the snus ban:
(1) why should the EU intervene to prevent a smoker saving their own life with snus just as thousands have done in Sweden?
(2) why would the EU protect cigarettes from the competitive pressure that has collapsed the cigarette market share in Sweden? 
What should be done?
I have set out how I think the TPD should be amended to provide appropriate and proportionate protection, and to develop a credible regulatory regime for the emerging nicotine market. See specific text proposals for e-cigs (MS Word) and an article about the whole directive: Amending the tobacco products directive: how to fix the harm reduction agenda.
Other MEPs see the world in similar terms (see amendments by Christian Engström, Chris Davies, Christofer Fjellner, Rebecca Taylor)  and have understood this basic truth: if you over-regulate a new, disruptive, low-risk alternative to the dominant and deadly cigarette, you simply protect the worst products from competition. To understand this just isn't that hard.
As MEPs consider how to handle hundreds of amendments, here's a rough guide to doing the right thing on e-cigarettes:
Strictly limit the application of  medicines regulation only to nicotine products where a health claim is made – ie 'treating or preventing disease' as specified in the medicines directive. It is important regulate e-cigarettes for what they are – and they are not medicines;
Rely on the 17 directives that already apply to e-cigarettes, and only go further if there is material evidence of a problem that cannot be addressed by the existing regulation;
Make sure the existing consumer regulation is actually applied and enforced by requiring member states to report on what they are doing. This can also inform a review of any problems arising that justify more intervention;
Subject to proper consultation, bring in a standard for maximum thresholds of contaminants in e-liquids, mirroring the approach used for food, rather than being prescriptive about manufacturing processes;
Avoid doing arbitrary things like banning flavours or applying marketing restrictions when you have no idea what this will do to the industry or relative strength of the cigarette category. Don't make any changes without assessing the impact.
Don't just jump in and try to design regulation on the hoof (see above): insist that a proper job is done to create regulation that is lawful, proportionate, non-discriminatory, subject to proper consultation and options analysis, supported by a decent impact assessment, and backed by scientific advice. Require the Commission to come back with a proper fully formed review by 2017.
If there are to be significant changes, bring them in with a 36 month lead in time.
If there are minor changes (printing a health message) bring them in sooner.
Above all, keep in mind the comparison with cigarettes. This is not a normal market in which the standard ideas of risk-based regulation can apply, because the riskiest product is not the most highly regulated.  That is an important to difference to most markets.  It means that well intentioned but misguided health and safety regulation can land you on the wrong side in public health – providing de facto support for cigarettes and causing more death and disease.
The road to hell is paved with good intentions

Attributed to Saint Bernard of Clairvaux (1091-1153)

Hell isn't merely paved with good intentions; it's walled and roofed with them. Yes, and furnished too.