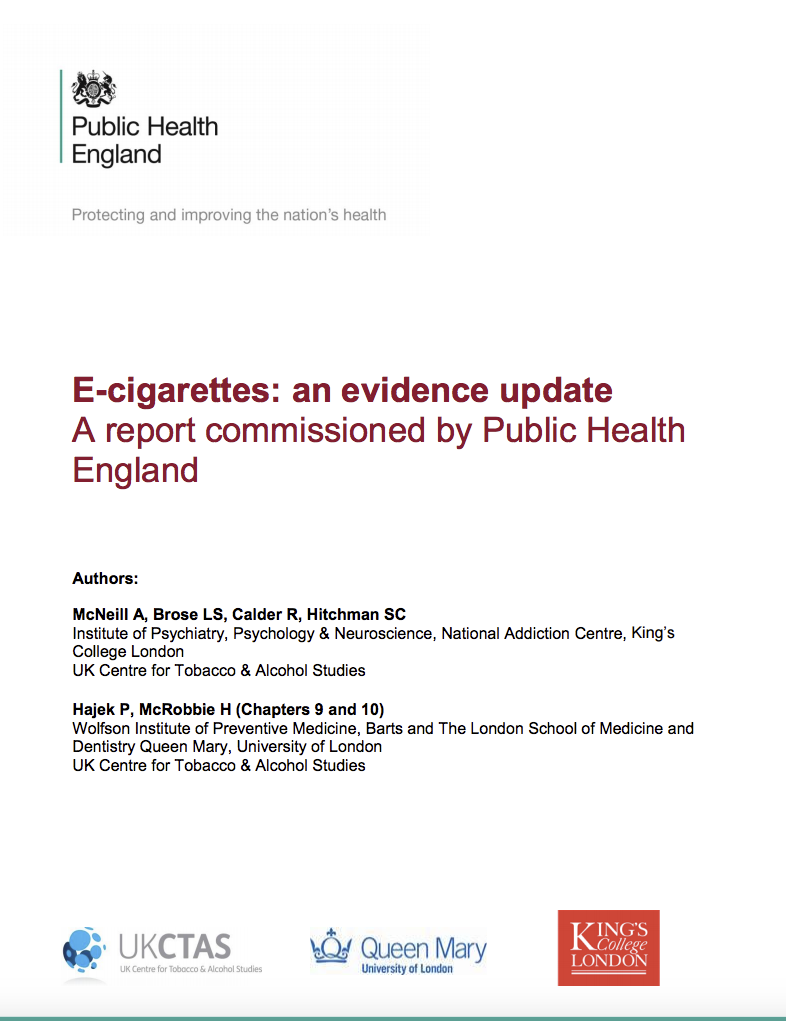 Today sees a new e-cigarettes assessment from England's public health authority, Public Health England. It includes an excellent evidence review by Professors Ann McNeill and Peter Hajek and their colleagues. Great kudos must go to Kevin Fenton, Rosanna O'Connor, Martin Dockrell and their colleague at PHE who have been determined to get this issue right – to maximise the benefits and to take an evidence-based approach to managing the risks.
The package is here: E-cigarettes: an evidence update comprising:
It has had great media traction in the UK (Google news) though with perhaps too much emphasis on whether the National Health Service should pay for e-cigarettes – something that would be only permitted when medically licensed products become available (see comment on this below). But the overall endorsement of vaping as a harm reduction strategy for public health is strong and compelling. Also see the statement of the New Nicotine Alliance:
Key messages – from the short briefing on implications for policy and practice….
E-cigarettes: a new foundation for evidence-based policy and practice

Safety and the perception of risks

It is important that the public be provided with balanced information on the risks of e-cigarettes, so that smokers understand the potential benefits of switching and so non-smokers understand the risks that taking up e-cigarettes might entail:

when used as intended, e-cigarettes pose no risk of nicotine poisoning to users, but e-liquids should be in 'childproof' packaging. The accuracy of nicotine content labelling currently raises no major concerns
the conclusion of Professor John Britton's 2014 review for PHE, that while vaping may not be 100% safe, most of the chemicals causing smoking-related disease are absent and the chemicals present pose limited danger, remains valid. The current best estimate is that e-cigarette use is around 95% less harmful to health than smoking
e-cigarettes release negligible levels of nicotine into ambient air with no identified health risks to bystanders
over the last year, there has been an overall shift among adults and youth towards the inaccurate perception of e-cigarettes as at least as harmful as cigarettes

Implications of the evidence for policy and practice

Based on the findings of the evidence review PHE also advises that:

e-cigarettes have the potential to help smokers quit smoking, and the evidence indicates they carry a fraction of the risk of smoking cigarettes but are not risk free
e-cigarettes potentially offer a wide reach, low-cost intervention to reduce smoking in more deprived groups in society where smoking is elevated, and we want to see this potential fully realised
there is an opportunity for e-cigarettes to help tackle the high smoking rates among people with mental health problems, particularly in the context of creating smokefree mental health units
the potential of e-cigarettes to help improve public health depends on the extent to which they can act as a route out of smoking for the country's eight million tobacco users, without providing a route into smoking for children and non-smokers. Appropriate and proportionate regulation is essential if this goal is to be achieved.
local stop smoking services provide smokers with the best chance of quitting successfully and we want to see them engaging actively with smokers who want to quit with the help of e-cigarettes
we want to see all health and social care professionals providing accurate advice on the relative risks of smoking and e-cigarette use, and providing effective referral routes into stop smoking services
the best thing smokers can do for their health is to quit smoking completely and to quit for good. PHE is committed to ensure that smokers have a range of evidence-based, effective tools to help them to quit. We encourage smokers who want to use e-cigarettes as an aid to quit smoking to seek the support of local stop smoking services
given the potential benefits as quitting aids, PHE looks forward to the arrival on the market of a choice of medicinally regulated products that can be made available to smokers by the NHS on prescription. This will provide assurance on the safety, quality and effectiveness to consumers who want to use these products as quitting aids
the latest evidence will be considered in the development of the next Tobacco Control Plan for England with a view to maximising the potential of e-cigarettes as a route out of smoking and minimising the risk of their acting as a route into smoking.
Please comment and share your views!
Some observations from me…

On the 95% risk reduction… this should be seen as a worst case and cautious claim based on current knowledge. There is currently no identified serious health risk associated with vaping, so it is best to see the residual 5% risk as an allowance for uncertainty. The claim for a 95% risk reduction is necessarily an expert judgement on the part of the authors mediated by PHE.  Their reason for optimism is down to what is known of the chemical constituents of e-cigarette vapour. Most of the constituents of cigarette smoke that are thought to cause harm are either not present in vapour or present at levels well below one twentieth of that in cigarette smoke. The physical basis for the claim is multiple studies of vapour toxicity compared to what is known about cigarette smoke.  Notably the following:
Burstyn I. 

Peering through the mist: systematic review of what the chemistry of contaminants in electronic cigarettes tells us about health risks, BMC Public Health 2014;14:18. doi:10.1186/1471-2458-14-18 [Link]
Farsalinos KE, Polosa R. Safety evaluation and risk assessment of electronic cigarettes as tobacco cigarette substitutes: a systematic review. Ther Adv Drug Saf 2014;5:67–86. [Link

]

Hajek P, Etter J-F, Benowitz N, Eissenberg T, McRobbie H. Electronic cigarettes: review of use, content, safety, effects on smokers and potential for harm and benefit. Addiction. 2014 Aug 31 [link] 
On naming a number. Quantification was used because that has more impact and more directly gets to the right ball park (i.e. "much less than" could mean 50% or 70% less, which would hugely overstate the risk), and therefore more people will have better aligned risk perceptions as a result. It is a way of saying "a lot less risky, but you can't be sure they are entirely safe" but getting closer to what the scienec actually says. It is grounded in a cautious view of toxic exposure but it would have been difficult for this public body to say 99% less or 100% safe with confidence – I'd see the 5% residual risk as a 'safety cushion'.
On claims that are true but still wrong (or not right enough). This claim should be seen as competing with hundreds of other risk-related claims that mostly deliberately mislead or, though well meaning, understate the risk differentials. For example the proposed claim for snus submitted to FDA, "No tobacco product is safe, but this product presents substantially lower risks to health than cigarettes", could mean 20%, 50%, 70% or 98% lower.  But only the last of these is approximately right.  So the claim does not convey the two orders of magnitude of the risk reduction (>98%) that would be a reasonable estimate for snus compared to smoking. So this claim is in the category 'true but incomplete and misleading'. Even so, I am supporting the snus claim as being much better than the FDA default ("this product is not a safe alternative to smoking", which conveys no useful information. So in a world of imperfect claims and incomplete caveats, we should give kudos to claims that shift perceptions closer to reality, are simple and blunt enough to have impact and provide a better basis for informed choice. The PHE claim does that.
On the corrective to inaccurate risk perception… I think the 95% claim is best understood as a risk communication designed to better align risk perceptions with reality. PHE and many others have been increasingly concerned that the perception of e-cigarette risk compared to smoking is way out of line with reality, and seems to be getting more out of line as the evidence of relative safety strengthens – many scare stories and baseless moral panics have contributed to this, and may be having the effect of putting smokers off trying e-cigarettes and so continuing to smoke. The 2015 ASH Smokefree GB adult survey showed only 52% thought they were less harmful – but even this group don't necessarily have accurate perceptions of how much less harmful – even half or two thirds less harmful is a huge over-estimate of risk.  A responsible public health body tries to align public risk perception with actual risk to the extent possible – and this is the point of PHE making a bold simple-to-understand claim about the relative risk. The alternative is to let smokers form their own perceptions from news stories and media academics determined to demonise the products – all the evidence suggest this approach leads people to greatly overstate risks or understate the risk reduction. A responsible public body does its best to give people a realistic and understandable anchor for making behavioural choices.  A good working assumption is that vaping is not entirely safe, likely to be 95% less risky than smoking, but may ultimately prove to have no mortal risks.  It should help to do the right thing, which is contribute to consumers making better informed reality-based choices – which is what PHE is trying to do, but CDC isn't.
What if the 95% claim is wrong? There is a risk that the claim is wrong – most likely that the claim is over cautious and that the implied residual risk of 5% it is too high, but it is also possible that some unknown unknown will render it too low – though I doubt that for a range of reasons. The usual way public bodies approach this risk of being wrong is to say nothing, to fudge and hedge, or to allow smokers to form their own perceptions from the maelstrom of ill-informed and malicious comment that circulates in this field. The result as we know is that consumers greatly overstate the risks of these products – many believing there is no difference in risk between cigarettes and e-cigarettes, and few appreciating the magnitude of the risk reduction. This caution transfers misperception risk from the public body to the consumer and is basically irresponsible. In the case of CDC and California Health Dept, it is worse than irresponsible – as they are purposefully trying to exaggerate the risk. In comparison, PHE is being responsible and proactive in making this claim: PHE is taking a risk of being wrong in order to help consumers be much more likely to be right.
Does 95% still mean thousands die? The UK premature death toll from smoking is about 100,000 per year (see CTSU for other countries). This claim isn't really designed for the arithmetic of body counts.  The residual 5% is really just a safety factor that allows for unknown effects and reflects the caution of bureaucrats and a concern not to imply they think e-cigarettes are safe.  But what if it is taken literally? One other way to address this is to ask what does the 100,000 UK smoking-related deaths mean anyway? In reality, smoking causes a shift in the life-expectancy curve… you can see this in the seminal Doll & Peto doctors' study: see key image here (reproduced below) and the full paper here.
You could use this curve to characterise the smoking risk as follows (based on the arrow on the graph): the median smoker loses 10 years of life between the age of 73 and 83.
So if it actually was 5% of the risk, these curves would become much closer. Then you might think of this as: the median vaper loses 6 months of life between the age of 82.5 and 83.
I think is a better (less alarmist) way of putting it than just saying 5% x 100,000 will die.  But I think the best approach is not to get too arithmetical about this – as I say, if the 95% has any basis it's an upper limit based on expert assessment of toxic exposure. So the PHE position is designed to convey long-term health risks that are about two orders of magnitude lower in a way people can understand, not to provide a precise basis for making a body count.
On risks to bystanders… the review follows all the main assessments to date and shows no material risks to bystanders from airborne nicotine or other vapour constituents. Risk to bystanders would normally be the justification for laws to control vaping in public places. But in the absence of risk the issue become one of etiquette for vapers, choice for owners and managers of premises to create the atmosphere and clientele they want, and consideration of the wider health implications of allowing or not allowing vaping in a particular public place.  For example does allowing vaping encourage smokers to switch,  does banning it encourage vapers to relapse? The government in England is right to think this way and has no plans to use the force of law to ban vaping. On the other hand, the Welsh Government's proposal to use the law to ban vaping in all public places is an excessive authoritarian intervention that lacks an ethical basis and will do more harm to health than good.
On medicalisation of vaping… the vaping phenomenon is best understood as a market-based transformation of the recreational nicotine market in a way that is good for health – hopefully leading to a substantial shift away from smoking and into vaping. It should be seen as a mass-market alternative to smoking rather than as a treatment for a condition in which a smoker presents to a public health agency with a harm-causing addictive condition seeking a cure. That may sound pedantic, but getting the policy framework right will depend on policy-makers having a realistic grasp of how the benefits come about. That is not to say that NHS, GPs, Stop Smoking Services and public health organisations should ignore them – just that they shouldn't see it as another form of NRT or Champix. If they want to advise smokers on these products they will need to compete with the expertise available on dozens of forums and be credible experts with smokers. Most of the public sector is way behind the curve on this.
On the shift away from 'if all else fails'… much of the public sector discussion of e-cigarettes as alternatives to smoking has tended to see them as a last resort to be tried if all other options have failed. This new package appears to provide a welcome change from that – stressing the interests of smokers in finding options that work for them.  Also, it's difficult for the public sector to maintain the 'if all else fails' approach while they are providing charts showing high levels of comparative success among those choosing vaping products – as below.
Support used and stop smoking service self-reported quit rates
On the Stop Smoking Services…  as you might expect from a public sector public health body, PHE places a lot of emphasis on what role the public sector plays – i.e. through Stop Smoking Services.  It is often claimed that the best results come from behavioural support combined with pharmacotherapy of some sort.  That might be true, but it addresses a particular subset of smokers – those willing to go to services and complete a behavioural course.  Many of the Stop Smoking Services have let themselves down by going into opposition against this bottom-up approach to quitting smoking, but that is now starting to change, with pioneering work in Leicester and the North East and many others adapting to the real world.  For me the key role of the public sector is to provide truthful reliable information to those who want it, and encouragement to try this approach to quitting – whether a government web site, a local authority public health programme, a GP surgery or a dedicated Stop Smoking Service. The PHE evidence reports are probably the most important thing the public sector does, because they affect the behaviour of all other actors.

On prescribing e-cigarettes… much of the press coverage picked up on the idea of prescribing e-cigarettes (i.e. making the available free via smoking cessation services).  I think this should be downplayed and the normal expectation should be that people will buy e-cigarettes with their own money and from savings made in quitting or reducing smoking. The excise regime should support that.  We need to see this a market-based solution (like snus in Scandinavia) and work on the basis that markets will provide the necessary innovation and affordable quality products if not over-regulated. It is not necessary for every problem in society to be addressed with public sector interventions and public spending. As Sir Jeremy Heywood, the UK's most senior civil servant, puts it in his blog on e-cigarettes:
It's easy to think that the solution to a policy problem is to fund a new programme or put in place new legislation. These are, of course, important parts of a policymaker's toolkit, but new approaches can often help us to solve the problems that we face.
Where I have been persuaded (by Linda Bauld and Deborah Arnott) that some intervention is justified is in helping the poorest smokers to get started on vaping.  If you are a smoker on a very tight weekly budget, then the economics of a switch to vaping can look daunting – there are upfront startup costs to get to the better tank/mod products (which are then much cheaper overall) and you might be concerned that you'll try e-cigarettes, they won't work and you'll have to buy the cigarettes as well. So for health inequalities reasons there may be a case to assist low-income smokers in making a transition. But for me, that's all. It shouldn't be a routine call on the public purse. It's good to have health interventions where no taxpayers are harmed.
On medically licensed e-cigarettes… I think that the distinction between licensed and unlicensed nicotine products is unhelpful and a distraction in policy terms. The medicines regulatory regime is so burdensome, restrictive and expensive that it cannot be assumed that the products that pass through it will be better for smokers – they are more likely to be designed to meet regulatory requirements than to meet actual smokers' needs. The example of NRT should serve as a warning: 'licensed' doesn't mean 'better'.  The Tobacco Products Directive is useless, but the logical approach would be to allow any products that are compliant with that regime to be used in publicly funded programmes.  In the post-TPD world, medicines licensing may have some advantages to the bigger tobacco-owned vendors who can bear the compliance costs – lower tax, advertising allowed, more proportionate warnings etc. But these advantages arise primarily from the failure of the TPD to provide a sensible regulatory regime for e-cigarettes rather than any safety, quality or efficacy benefits to the consumer.
On the Tobacco Products Directive Article 20 – this is a truly dreadful piece of legislation, made in haste on the foundations of bad science, bad economics, bad ethics and bad process.  If this evidence review had been available during the negotiations we might have better legislation – but instead of taking care to get this right and save thousands of European lives, the European legislature just blundered on full of hubris and anti-scientific delusions.  The directive was based on junk science from WHO (here and here) and negligence on the part of the European Parliament rapporteur (here), evidence free ideas of the European Commission (here) and the unrivalled pomposity and negligence of the European Council and its Irish presidency along with many other actors (here). I really do hope lessons are learned.
On the messages for others… Public Health England has done what a good public health body should do – looked at the evidence, thought about its responsibilities and worked through how to bring evidence into policy and practice.  How many of its peers in other countries can claim the same? Where is the equivalent analysis from CDC or the extremists in California? What do Australia and Canada have to back their prohibitionist positions? When will WHO start to act as though e-cigarettes are part of the solution, not part of the problem? What messages will Gates, Bloomberg and Soros take from this? Why does CTFK decline to do what the much more modestly funded ASH does in the UK? Where are the open minds in cancer, heart and respiratory charities and societies? The message for others is simple: stop believing the rhetoric of prohibitionist activists and anti-corporate campaigners and take a cool hard look at what is really going on and what the evidence tells you – then act accordingly.